Donald Lewes Hings
b. November 6, 1907
d. February 25, 2004 (obituary)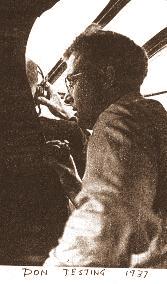 Awards and Life Memberships
Member of the Order of Canada

(awarded August 16, 2001)

M.B.E.

(Member of the British Empire), awarded for outstanding contributions in radio communications during World War II.

A.P.E.B.C.

Association of Professional Engineers of B.C.

A.P.E.O.

Association of Professional Engineers of Ontario.

A.G.U.

American Geophysical Union.
Patents
Over 55 U.S./Canadian patents, including the basic thermionic vacuum tube current amplifier, a doppler aircraft landing system, airborne and subsea geomagnetic geophysical exploration methods and instruments, and the walkie-talkie. Patent Attorneys: Woodling & Krost, Cleveland, Ohio (G. Woodling & L. Granger).
Work History
1930-1945

Consolidated Mining & Smelting Company (CM&S, now COMINCO) - designed and developed 2-way air-to-ground communications network for mining exploration in the Yukon, N.W.T, and B.C.

1940-1945 (WWII)

National Research Council - on loan from CM&S, working with Signal Corps to develop military communications, including the military walkie-talkie.

1946-1985

Electronic Laboratories of Canada (President & Chief Engineer); various contracts, including:

1945-1952:

Department of National Defense - maintenance and overhaul of radar units. Prototype development of commercial electronic equipment - was contracted for production throughout Canada & U.S.

1952-1960:

Noranda Mines - conducted geophysical oil surveys on prairies and in U.S. Developed Geomagnetic survey equipment for airborne and subsea oil and mineral exploration.

1953-1965:

B.C. Marine Plastics (division of E.L.C.) - reinforced fiberglass company established for application methods and prototype production.

1965-1970:

KAMYR - Pollution R&D; developed centrifuge for separating black liquors from pulp and paper.

1960-1980:

Trained and supplied geophysical crews for oil and mining companies; developed extrasensitive geomagnetic instrumentation; consulting and data interpretation; Environmental R&D.

1975-1993

R&D - Air Pollution; developed instrumentation for measurements of causes and effects of long-range air pollution vectors.